In Scotland on the 31st of December we celebrate Hogmanay!
Hogmanay is the Scottish word for New Year's Eve. We have many different new year traditions!
In many Scottish cities, the Hogmanay celebrations start on the 30th of December with a torchlight procession.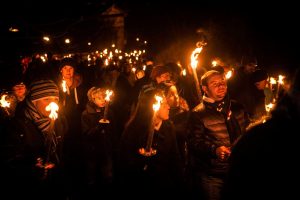 In the evening of the 31st, all the family gathers together to have a meal. Traditionally, the house must be clean and tidy (even the insides of the kitchen cupboards!); and all debts must be paid. This is so that we start the new year well!
To finish the night, many people go to a traditional party called a ceilidh. There's lots of Scottish folk music and everybody dances. It's a great night!
On the 1st of January; New Year's Day, it's very difficult to wake up, so why not go for a refreshing "dook" in the river?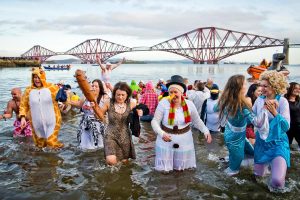 We have an expression in Scots: "Lang may yer lum reek!" Literally, it means "May your chimney always be smoky", and we use it to wish our friends and family warmth and happiness for the year. So, lang may yer lum reek!