In Scotland, we celebrate our national day on the 30th of November – Saint Andrew's Day!
Legends tell us that Saint Andrew created the Scottish flag – a white cross on a blue background. The blue backgroud represents the sky, and the white cross is the clouds.

(The orange text is a regional Scottish language called Gàidhlig)
Saint Andrew is the patron saint of Scotland, but Saint Andrew's Day is not a religious celebration. It's a day where we celebrate Scottish culture, food, music, clothes and any other Scottish thing you can think of!
On the 30th of November, lots of men wear kilts. It's a tradition!

We eat a traditional Scottish dinner with the family – haggis, neeps and tatties. Neeps is a Scottish word for turnip and tatties are potatoes.

And then we go to a cèilidh, a traditional party where we sing, dance, and listen to Scottish folk music.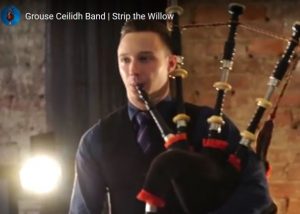 It's lots of fun! Happy Saint Andrew's Day, everyone!